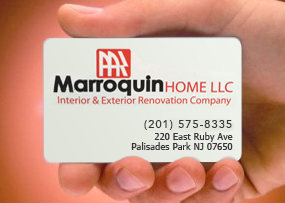 They say you learn from others' mistakes. Well, that's the story behind Marroquin Homes LLC. After working with various remodeling contractors whose results were often lacking, we started our remodeling, roofing, and siding company as a way to do better by homeowners.
When you're spending your hard-earned dollars on home improvement projects, you deserve to have a residential remodeling contractor who will respect your property, vision, and budget. Marroquin Homes LLC takes great pride in being exactly that kind of contractor. Serving the Bergen County area since 2008, we believe you shouldn't have to pay through the roof to get craftsmanship that lasts. We'll complete your project at an affordable rate without ever cutting corners on quality.
You have a lot of remodeling companies to choose from in and around Bergen County. Whether you're in the market for a roof contractor, siding contractor, or kitchen or bathroom remodelers, you can rest assured that the team at Marroquin Homes LLC will get your job done right the first time. We have 15 years of experience in the industry, and we simply won't settle for a second-rate outcome. Neither should you.
As a family-owned business, we understand the importance of protecting the investment you've made in your home. We're here to help you add value with each interior and exterior upgrade we tackle. It is our high standard of excellence and economical prices that separate us from other local remodel contractors. We're also fully licensed and insured, and we cover all of our residential remodeling services with a five-year labor warranty and great product warranties.
Save Money on Residential Remodeling
Don't think for a moment that exceptional home repair and remodeling is out of your price range. We provide fair prices for top-quality, lasting results. Marroquin Homes LLC is based in Palisades Park and available 24 hours a day to accommodate your busy schedule and individual requests. If you believe, like we do, that top-notch workmanship shouldn't have to cost a fortune, give our remodeling contractors a call. Your money goes farther with us!